Bladder Tanks Explained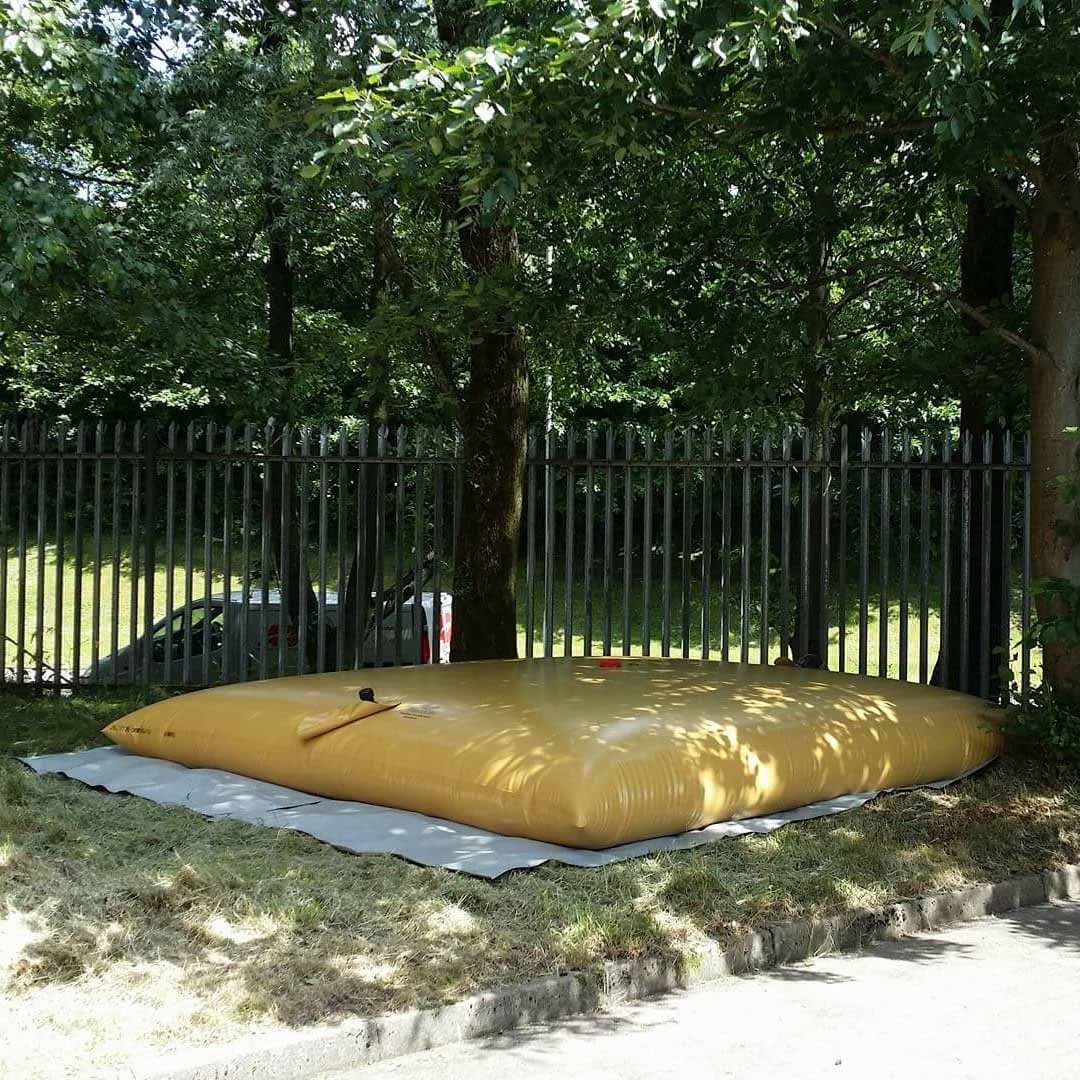 PILLOW TANKS
Flexible Pillow Tanks, which are also known as bladder tanks, have been designed to store liquids from 1,000 litres to 250,000 litres. Our pillow tank design has been used successfully for many years to store product over short, medium and long terms of use.
Our pillow tanks are manufactured in a technical fabric with a polyester thread and coated in PVC (Polyvinyl Chloride). The material is bonded together to make the pillow tank construction by welded the seams together using a High Frequency Welding machine.
FEATURES & BENEFITS
Durable and able to withstand harsh environmental conditions (typically -30 to +70 deg. C)
Manufactured from high-quality materials including PVC
Flexible and easily deployed, can be rolled up and stored in a very short time
Can be re-used over and over again
Manufactured in Europe
Available in a wide range of specifications to suit your application
Easy to maintain
Can be tailored to meet your exact requirements
A WIDE RANGE OF APPLICATIONS
Storage of drinking (potable) water for public events (i.e. Concerts, Racing, Sports)
Storage of waste water at public events, shows etc
Fire service (water storage for firefighting)
Storage of slurry (Agriculture)
Storage of chemical fertilizer
Storage of produced water for drilling activities
Storage of water on small boats/vessels
Temporary storage of liquid during routine maintenance and repair
Rainwater collection
Storage of Biogas
Storage of fuel
Storage of contaminated water
Storage of water for ballast
Load testing bags
AVAILABLE IN A WIDE RANGE OF SPECIFICATIONS DEPENDING ON REQUIREMENTS
Ranging in capacities from 1,000 up to 250,000 litres, our flexible pillow tanks are supplied in different material specifications depending on storage requirements and contained fluids such as potable or non-potable water. We can also provide other products for use alongside flexible tanks including PVC ground sheets, basins, open tanks, ballast and tank liners. We can also supply ball valves if required. We can fit most types of connectors/adaptors including BSP and Camlock.
TANK MATERIALS
TPU – coated high tenacity polyester woven fabric designed to store drinking water to WRAS requirements with an operational life expectancy of 10 years
PVC – a non-toxic PVC-coated high tenacity polyester woven fabric designed to store both potable and non-potable water with an operational life expectancy of up to 10 years. We use 3 different grades - 1 for drinking water, 1 for waste-water and slurry and a heavy duty version for waste water, contaminated water
PVC/TPU blend – coated high tenacity polyester woven fabric designed to store produced water from drilling operations and contaminated water, with an operational life expectancy of 10 years
Most tanks are made to order; we have a standard range and can tailor sizes and accessories to meet with your specific requirements.
ACCESSORIES
All connection and adaptor types including BSP, Camlock
We can fit connections up to 8 inch (200mm) on our tanks (dependant on connector type)
Ground sheets (geotextile groundsheets are provide as standard but we can provide PVC groundsheets for rougher ground)
UV Covers/Dust Covers - This is an additional layer of PVC that fit over the tank to provide additional protection from the elements
Ball valves, elbows, hose tails
WARRANTY
We offer a standard one year warranty on all our products for materials and workmanship, this may be extended for a small fee
TANK DATA
The list of standard tanks and fittings is shown below however we can bespoke manufacture the tanks to any capacity you require (up to 250,000 litres) or we can make them to a specific space envelope and provide you with the capacity that it can provide for a given size – all we need is the length and width of your available space.
---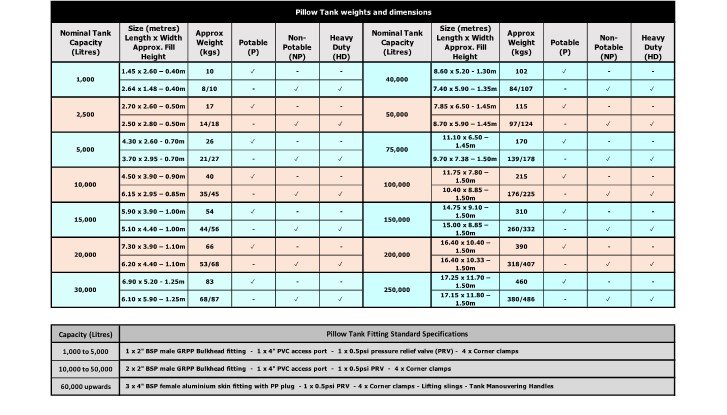 ---
---
Standard Non-Potable Bladder Tank - waste water, rainwater and slurry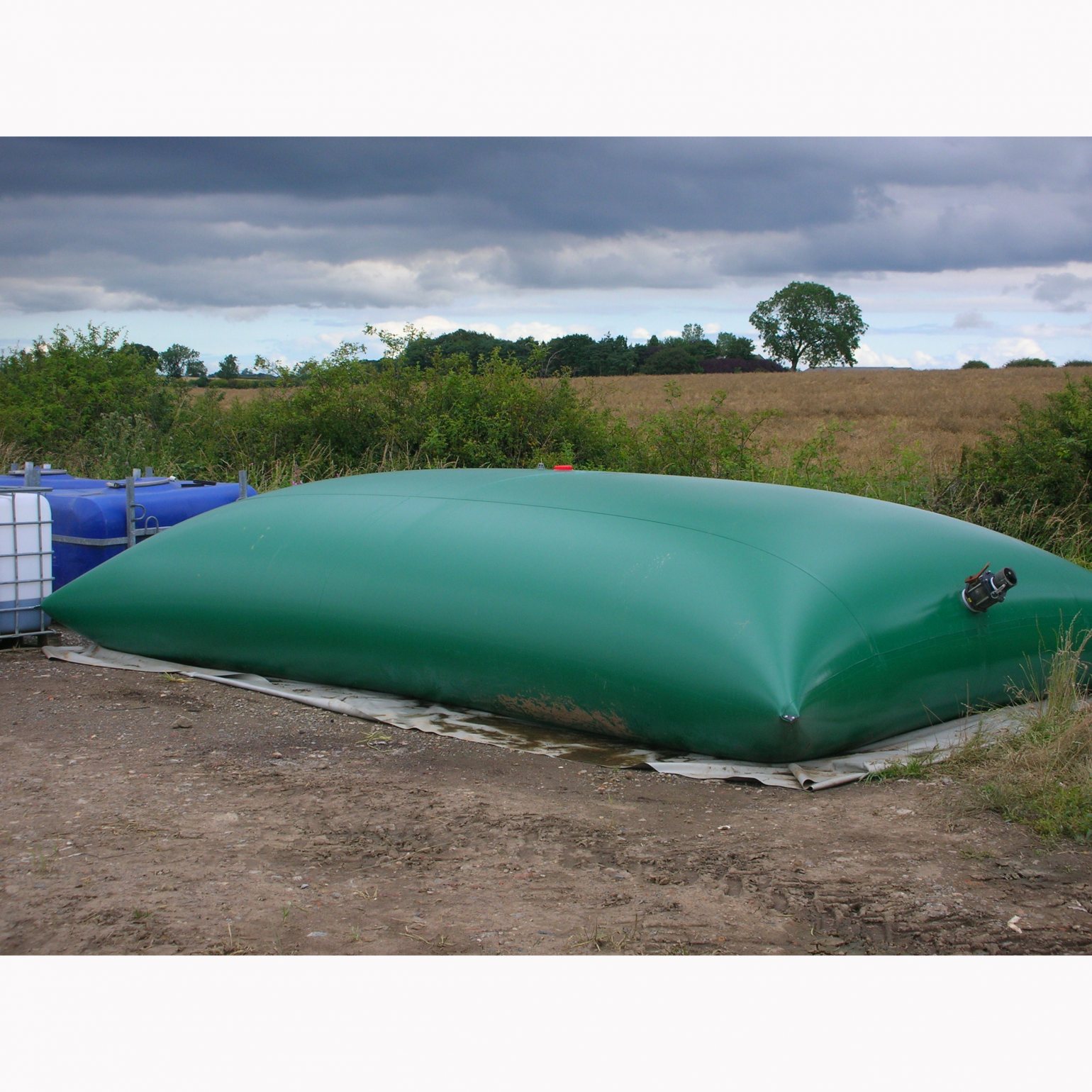 Non-Potable Flexible Tanks
---
---
---
---
Potable (Drinking) Water Bladder Tank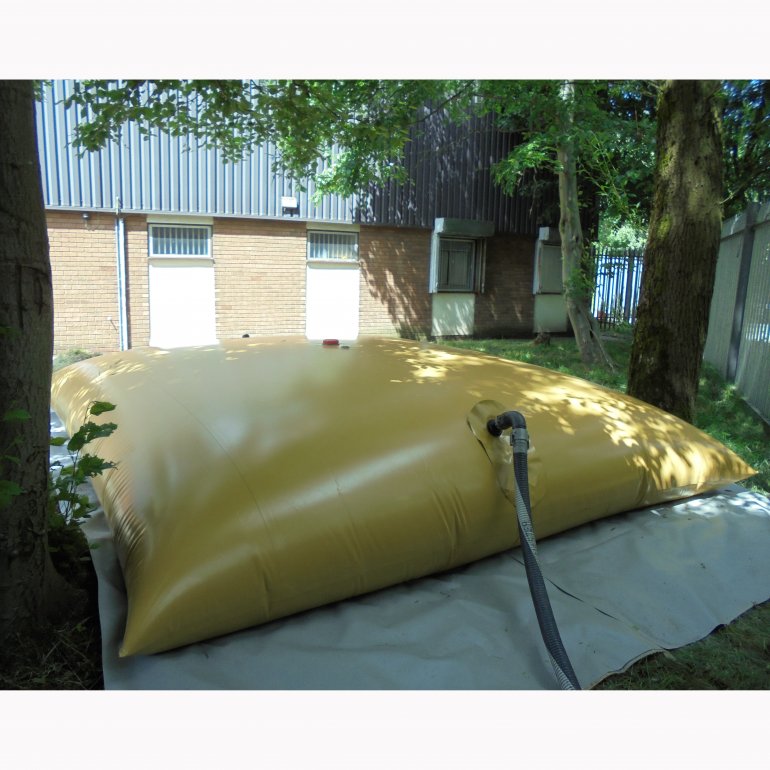 ---
Heavy Duty Non-Potable Bladder Tank - thicker material than the standard, used for waste-water, slurry, some chemicals, drill water and general water storage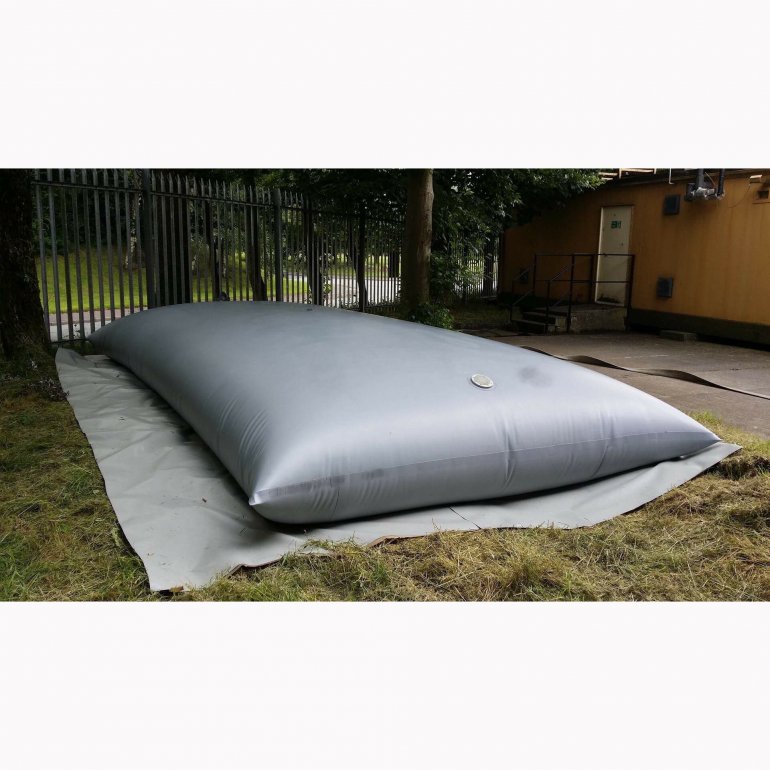 FREQUENTLY ASKED QUESTIONS
WHAT GROUND PREPARATION IS NEEDED?
A flat well-drained location is the ideal choice of a site that should be free from rocks, stones, tree stumps or any other sharp objects that may chafe or puncture the tank. On rough or stony ground sharp objects should be removed and ideally a layer of sand laid to provide a base. Maximum care must be taken to avoid placing tanks on ground having a cross slope as the tank is liable to "roll away" when being filled.
DO I NEED A GROUND SHEET?
Not always, if the ground is free from debris and sharps then you can use these tanks without a ground sheet however, we do recommend using a ground sheet to prolong the life of the bladder tank
HOW DO I FILL THE TANK?
This can be done from the water mains or through a pump with the relevant connector fitted to attach to the bladder tank. This must start slowly (up to max 490 litres per minute) then increased to a maximum of 1,000 litres per minute dependent on tank capacity
HOW DO I EMPTY THE TANK?
This can be done by gravity or pumped, the tank may have to be lifted slightly to empty any remaining liquid
HOW DO I MAINTAIN THE BLADDER TANK?
Our bladder tanks are quite easy to maintain. The surface should kept clean of debris and washed down occasionally. The inside can be cleaned through a small hatch using a hose pipe then drained away
CAN THE BLADDER TANKS BE REPAIRED?
Small cuts and abrasions can be repaired using our repair kit. Larger cuts/splits may have to be repaired at our factory (for a fee)
WHAT LIQUIDS CANNOT BE STORED IN A BLADDER TANK?
PVC bladder tanks can store most liquids except fuels and certain acids, this requires a special material so please inquire. We can manufacture a bladder tank to store pretty much any liquid, but please check with us regarding your specific application
---