Featured Products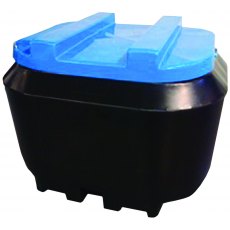 MEAL BIN
Special Offer Buy any 3 x Kingspan Titan Agricultural Products and receive 10% discount * Promo Code : TITANAGRI23
€320.00
ex VAT
(€393.60 inc VAT)
---
---
---
---
---
---
Livestock Feeders & Dispensers
A range of aninal feed bins for domestic and commercial uses. Manufactured using MDPE materials in Ireland. Applications and industries such as farming, small holdings, plus many more uses and applications, various shapes and sizes. 13 Litres (3 gallons) - 200 Litres (44 gallons)
It's important to note that the specific requirements for livestock feeders and drinkers can vary significantly depending on the type of livestock (cattle, sheep, goats, horses, etc.), the climate, and the particular management practices in place. It's often a good idea to consult with a livestock nutritionist or a veterinarian to ensure that your animals' nutritional needs are being met in the most effective way.
Livestock Feeders & Dispensers FAQs
What is a milk feeder?
A compartment multi teat feeder allows calves or lambs to be allocated the correct amount of milk and reduces the effect of bullying.
To look at our range of milk feeders click Livestock Feeders & Dispensers
What types of livestock feeders are available?
There are several types, including trough feeders, bunk feeders, round bale feeders, creep feeders, and automatic feeders. The type used can depend on the animal, the feed type, and the size of the operation.
To see Tanks.ie full range of feeders click on Livestock Feeders
How do I choose the right size feeder for my livestock?
The size of the feeder should be determined by the number of animals you have, their feeding habits, and how often you want to replenish the feed. Larger operations or less frequent feedings require larger feeders.
What materials are livestock feeders made from, and which is best?
Common materials include galvanized steel, plastic, rubber, and wood. The best material often depends on durability, ease of cleaning, safety for the animals, and cost.
How can I minimize feed waste with my livestock feeder?
Use feeders designed to prevent animals from pulling feed out, adjust the height for the specific animal, and provide adequate space for all animals to reduce competition and spillage.
Should I choose a portable or stationary feeder?
Portable feeders are good for rotational grazing systems and can reduce pasture damage. Stationary feeders can be more durable and may be appropriate for permanent feeding areas.