Featured Products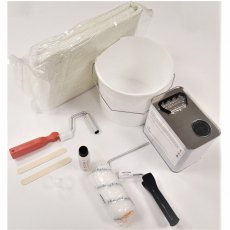 GRP Kit / Fibreglass Repair Kit (2m)
GRP Kit / Fibreglass Repair Kit (2m) The comprehensive GRP Fibreglass kits are supplied complete with all the materials needed to repair or bond GRP neck extensions. The kit will cover 2 metres area with 1no layer of 450gm Fibreglass Matting. Catalyst is included for the resin. The Resin included is a general-purpose resin that can be used for all types of all types of moulding including,...
€112.47
ex VAT
(€138.34 inc VAT)
3P FILTER COLLECTOR WITH UNIVERSAL CONNECTION
3P FILTER COLLECTOR Collects & Cleans your Rainwater. Filters and collects rainwater for best possible tank water quality. This rainwater filter removes leaves and reduces risk of disease carryover. The rainwater filter also eliminates sludge and enables clean water to be pumped safely. The Filter Collector diverts cleaned water to the storage tank with high efficiency (85% to...
€59.65
ex VAT
(€73.37 inc VAT)
---
---
---
---
---
---
---
---
---