Featured Products
SENSiT SMART OIL TANK MONITOR/ GAUGE
SENSiT SMART OIL TANK MONITOR/ GAUGE The Kingpsan SENSiT is a smart Wi-Fi tank level monitor that enables you to monitor and control your liquid levels through the smartphone app from your smartphone or tablet. You can check your tank's level from anywhere, and you will get notifications to your smart device tell you of sudden drop alerts, predicted run out, consumption monitoring, low level...
€125.00
ex VAT
(€153.75 inc VAT)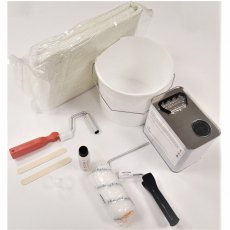 GRP Kit / Fibreglass Repair Kit (2m)
GRP Kit / Fibreglass Repair Kit (2m) The comprehensive GRP Fibreglass kits are supplied complete with all the materials needed to repair or bond GRP neck extensions. The kit will cover 2 metres area with 1no layer of 450gm Fibreglass Matting. Catalyst is included for the resin. The Resin included is a general-purpose resin that can be used for all types of all types of moulding including,...
€112.47
ex VAT
(€138.34 inc VAT)
---
---
---
---
---
---