Mano-term
Mano-term AB manufacture overfill protection devices and mechanical level gauges for tanks and transport containers (IBCs). Mano-Term is a second generation family-run company. In 1946 Ingolf Bö started Mano-Term in a basement in Västerås, Sweden. At the start of the 1960s the company moved to Helsingborg, and in 1968 a new factory was built on Landskronavägen where the business is still operated today.
---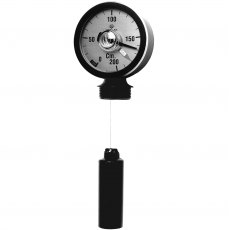 ADJUSTABLE OIL CLOCK GAUGE
ADJUSTABLE OIL CLOCK GAUGE This adjustable oil clock gauge is suitable for for indoor and outdoor tanks containing fuel, oil/diesel fuel, biofuel, biodiesel and motor oil. This clock level gauge is intended for use with open vented stationary tanks. The clock gauge can be adjusted to the desired height of any tank from 1m to 2m. Specification:- Meter house 110mm dia in high quality UV...
Mano-term Categories