Which Sewage Pumping Station Do I Need?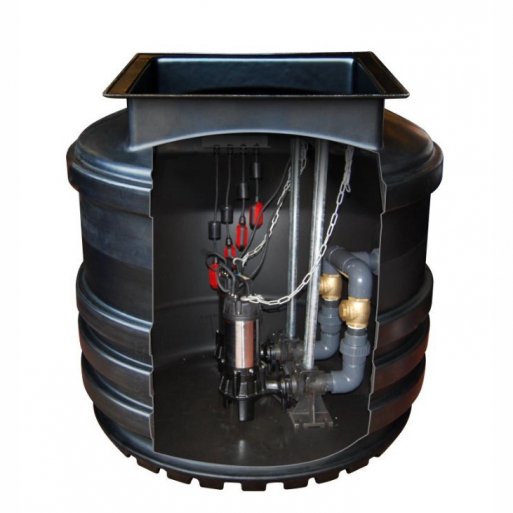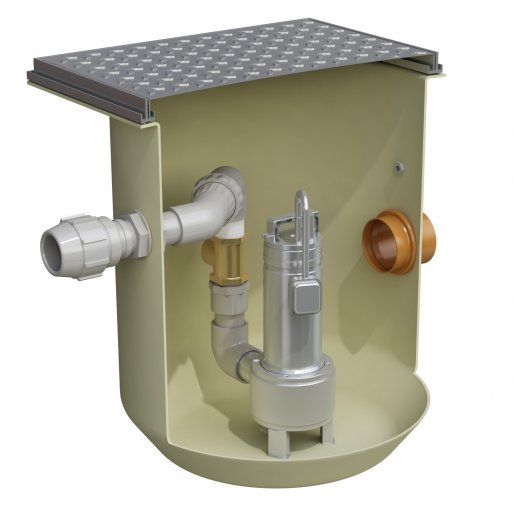 ---
A sewage pump station is a storage chamber incorporating a sewage pump which transfer either the foul or surface water to a local drain, manhole, sewer or soakaway pit. A pumping station is used where a normal gravity system cannot be, either because there is insufficient fall over a distance, or the common collecting point is lower than the discharge point.
To see our full range of pumping stations click here
A sewage pump is a submerged pump that moves sewage solids from one point to another, usually from a septic tank or sewage treatment plant to a percolation area or soakaway pit which is a distance away of uphill. Alternatively, it can be used to pump into a gravity flow sewer mains.
When deciding on what pump station you need, you can be easily bombarded with many different size chambers and many types of pumps. So when purchasing a system, it's important to ensure the system is suitable and meets certain sizing criteria. Some of the answers, you will need to consult whoever is installing the system, for example, if the system is being installed in a driveway, a D400 rated cover and frame may be needed, which are designed to support a heavier load.
The majority of your spec will be governed by the physical constraints you will encounter on site, for example, the height from which the pump will need to overcome or a certain type of product which is designed differently will dictate your choice of pump in the pump station.
Please see below a few of our frequently asked questions:
WHY CHOOSE A SINGLE PUMP SYSTEM OVER A TWIN PUMP SYSTEM?
You would choose a single pump system If you have a low usage application which won't be used on a regular basis, for example, a property extension, annex or small offices. Single pump systems are very cost-effective, as by design, they operate more simply than the twin pump system and only have 1 pump. However, if there were any breakdowns, immediate action would be required as there would be no means of moving the waste water coming into the station.
WHY CHOOSE A TWIN PUMP SYSTEM OVER A SINGLE PUMP STATION?
You would choose a twin pump system If the station is going to serve the whole property or building, so that wear is shared between 2 pumps to reduce the impact of normal wear and tear. You would also choose a twin system so that there is a backup pump waiting to kick in giving you adequate time to arrange an engineer visit.
WHY WOULD YOU NEED A HIGH LEVEL ALARM IF YOU HAVE A SINGLE PUMP SYSTEM?
As a single pump stations is simpler by design as they run via an integral float on the pump, there is no need for a control panel. However, there still needs to be a way to alert the relevant person where it is installed, that there is a high water level in the chamber
WHY CHOOSE A MACERATOR PUMP OVER A VORTEX PUMP?
If you have an application where the risk of blockages that could enter the drain run is higher than usual, for example if the property is rented, tenants could unwillingly block the pump, this is also a problem if it is an apartment block as you wouldn't be able to source who was responsible for blocking It, but everyone would need to pay their share to fix it.
Also, macerator pumps, because of how they cut through the waste, they can pump a much higher head (vertical distance), so when compared to vortex pumps, if you have anything over 10 m, you will need to be selecting macerator pumps. Always check the pump flow curves for your application or you can call to speak to one of our technical team if you want to be sure the pumps will do the task at hand.
WHY CHOOSE A 65MM OR 80MM VORTEX PUMP OVER A 50MM VORTEX PUMP?
If you are concerned about the risk of blockages but also need a flow rate which macerator pumps cant provide, or even if its purely just a faster flow rate you need, a larger 65 mm or 80 mm pump will be able to achieve this, calculating a specific flow rate to your application is difficult and would be best speaking to a member of our technical team to help specify the right pumps for your station.
WHY WOULD I NEED A KIOSK?
As twin pump stations come with a control panel, you will need to identify a weatherproof enclosure to house the control panel, in either a plant room, utility room or cabinet, you will need to bear in mind the pumps and floats only come with 10 m of cable so if you have nowhere within that radius you will need a kiosk. Installed on a concrete plinth with ducts connecting to the pump station it is ideal for a professional finish to any pump station installation.
WHY DO I NEED 24HR STORAGE, AND HOW DO I CALCULATE IT?
Building regulations dictate that for a residential application that a pump station's capacity needs to be able to store 24hrs worth of waste so in the event of a power failure, the usage can be unaffected for a 24hr period.
The pump station is sized on the basis of 150 litres per person per property, using the below example
Flow per person = 150L
Total number of people = Number of bedrooms + 2, per property
Flow per person x total number of people
Example
3 x 4 bedroom houses
3 x 6 = 18 people
18 people x 150L = 2700L
2700L required as a minimum 24hrs storage capacity
---
---