8PE BAF CONCRETE WASTEWATER TREATMENT SYSTEM
8PE BAF CONCRETE WASTEWATER TREATMENT SYSTEM

Product Ref: 8PEBAFCWTS
For a site visit or site assessment please click on link to form




8PE BAF CONCRETE WASTEWATER TREATMENT SYSTEM
This 8PE BAF concrete wastewater treatment system is the ideal wastewater treatment system for domestic dwellings. Whether it is a new build, a renovation or a tank upgrade this is the most effective solution for the standard family size. This sewage tank is efficient, reliable, durable and economical.

The 8PE BAF System is housed in two 4000 litre concrete tanks which gives a much longer desludging interval than most systems. The system is certified by The Irish Agrement Board for use by 10 people. Unlike some plastic systems, the concrete tank will not rise, or crush, when groundwater rises and clay expands during inclement weather. Furthermore, there is no requirement for concrete backfilling around these sewage treatment tanks - simply backfill with clay. When installed, the BAF System is fitted flush with the surrounding ground level - no unsightly equipment protruding above ground.

The purchase of this wastewater treatment system comes with delivery, supply, installation and commissioning. We don't simply drop it on site. Our staff will be on hand during installation with good advice borne of years of experience to ensure that your system is perfectly installed.

System comes with:-
Delivery
Installation by truck mounted crane
1 year maintenance
2 year guarantee on all components
7 core cable
Electric control panels
Water pump
Air compressor
Concrete risers to a maximum height of 1200mm above invert level
Delivery by artic truck only. Can be delivered by rigid truck at extra cost - please enquire.
Add an Ecoflo Coco Filter to your wastewater treatment system
The Ecoflo Cooc Filter is a tertiary treatment filter for both domestic and commercial applications. The Ecoflo Coco filter is a final treatment stage to further improve the effluent quality before it is finally discharged into the watercourse. This wastewater filter is designed for both principal and secondary reisdences as well as new housing and replacements for faulty systems.
Benefits:
High Perfomance - a reliable wastewater treatment system well adapted to all site conditions
Sustainable - an ecological solution due to no energy being needed
Easy to install - Comes pre-assembled as an easy to handle unit for quality installation
Compact - minimal footprint which is ideal for limited installation space or reduced seperation distances
Low cost - delivered ready to install to reduce civil and construction works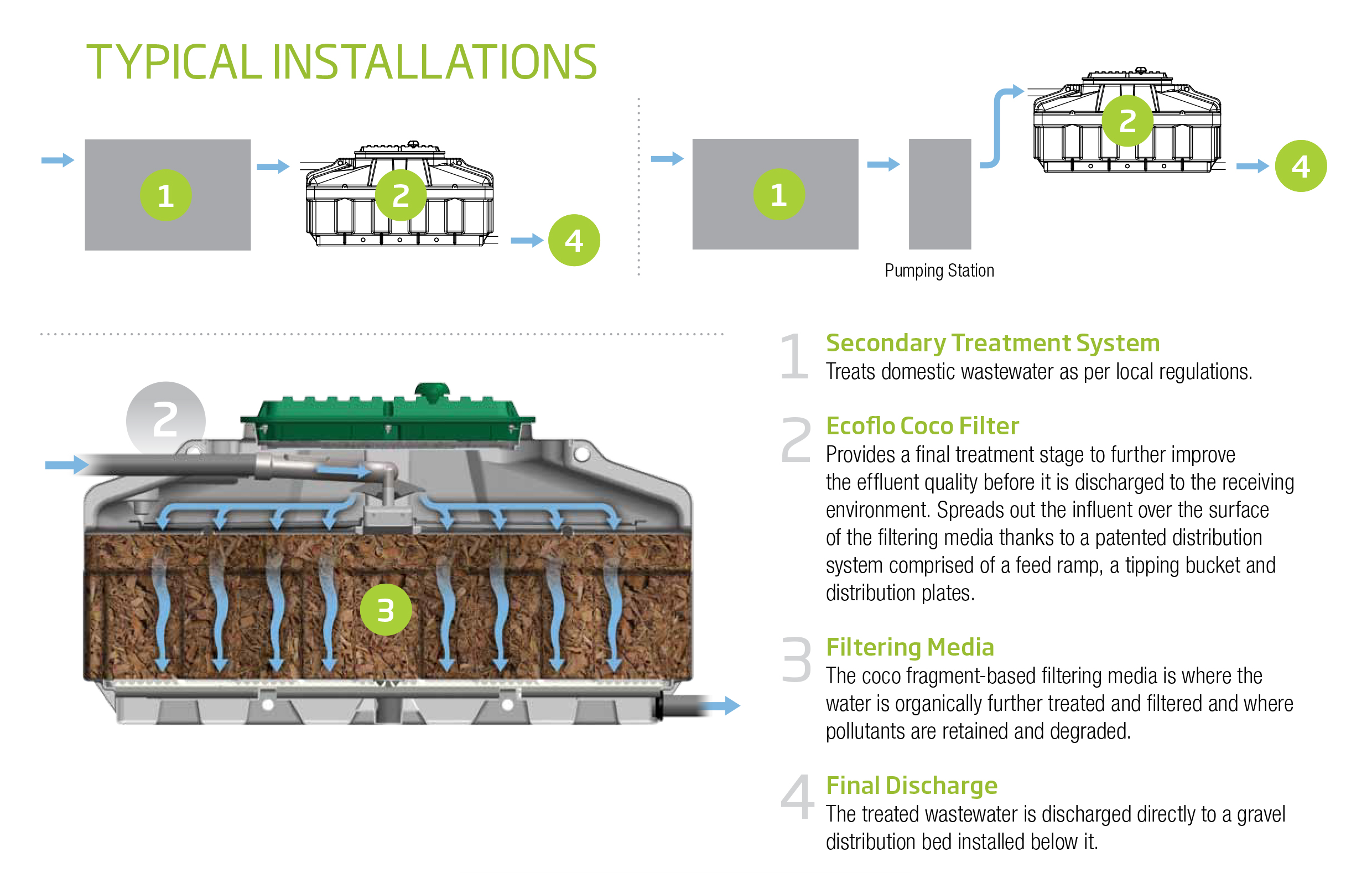 WOULD YOU LIKE A SITE ASSESSMENT DONE?
Before you purchase your sewage treatment system you may need advice on which system is suitable. From percolation tests and site assessments to specifiying the correct sewage treatment plant for installation we can help you through the process.
If you would like our help, please click on Site Assessment Report and fill out the form and we can take it from there.
Product Specification
Product Code: ORC
Fuel Type: Sewage
Shape: Underground
Shipping: Free Delivery
Volume: 8000ltr
Weight: 12000.000kg
Dimensions: L:5440mm W:1910mm H:2150mm
Delivery Terms
Kingspan Tanks - Tail-lift deliveries are available for most tanks up to 2,000 Litre capacities for kerbside delivery.
It is the responsibility of the customer to inform us, if off-loading equipment is required.
Klargester Tanks - All tanks are delivered on 45ft Flat-bed Articulated Trailers, so off-loading equipment on site is necessary.
HIAB off-loading is available at extra cost, if requested.
It is the responsibility of the customer to inform us, if off-loading equipment is required.
Harlequin Tanks - Tail-lift deliveries are available for most tanks up to 2,500 Litre capacities for kerbside delivery subject to availability.
It is the responsibility of the customer to inform us, if off-loading equipment is required.
tanks.ie undertakes to attempt to fulfill all orders within a maximum of 7 working days of order acceptance, unless advised otherwise. In the event that any order is delayed, tanks.ie will not be responsible for any consequential loss or damage that this delay may cause.

Smaller items (including most accessories and consumables) will normally be despatched by courier.
Larger items (including all storage tanks) will normally be delivered by carrier.

Please note that for all items delivered by carrier, normally a truck + 40ft trailer, it is the customer's responsibility to ensure adequate vehicular access and to provide suitable offloading equipment, where required. Please notify us, if this might pose a problem and we will endeavour to facilitate your request.
Returns Information
ORDER CANCELLATION

In accordance with Irish and European Union consumer laws, you have seven days after receipt of order to cancel the order in its entirety or any part thereof, providing the goods are in a re-saleable condition. Should you wish to cancel any order, you must first contact [email protected] for a 'Returns Authorisation Number'.

Please call 051 351325 or e-mail [email protected]


After the Returns Authorisation Number has been issued, we will make arrangements with you for the goods to be returned. If you wish tanks.ie to arrange the collection of the goods, please note that a carriage and administration charge will apply, which will not exceed 35% of the gross value of the goods.

Upon return of the cancelled goods to tanks.ie and verification that they are in a re-saleable condition, we will refund the value of the goods, less any collection and administration charges, within 28 days.

DEFECTIVE PRODUCTS

If you believe that products you have purchased from tanks.ie are defective, please report this immediately to tanks.ie by e-mail [email protected] or call 051 351325.

If they are within the manufacturer's guarantee period, we will arrange with the manufacturer to replace or repair the goods at the manufacturer's discretion and consistent with their guarantee.
Where it is necessary to inspect the goods on site and an inspection proves the fault is neither the fault of tanks.ie, nor the product manufacturer, an inspection charge will apply, which will be advised by the manufacturer prior to site inspection.

Please note that where guarantees are available in excess of those required by law, these are provided at the discretion of the product manufacturer and not tanks.ie. Additionally, tanks.ie will not be liable for any claims for consequential damage or loss.
People who bought this also bought...
---
---
---
---
---