---
---
---
---
---
---
---
---
---
---
---
---
---
---
---
---
---
---
---
---
---
---
---
---
Rainwater Harvesting FAQs
What can I use rainwater for?
Rainwater can be used for all outdoor uses; watering the garden, washing cars, cleaning down patios, driveways, walls etc, and ornamental ponds. It can also be used inside the house to flush toilets and feed washing machines. Rainwater use means less build-up of calcium deposits in appliances.
Rainwater is not suitable for drinking or for use in showers and baths. Rainwater is generally free of harmful minerals and in most cases chemicals but can be adversely effected by air pollutants and/0r contamination by animals in the catchment area. The only way rainwater can be used for drinking water is if it is treated by ultra-violet filters which are not practical in domestic use as generally a rainwater tank will not store enough water for total consumption in a domestic situation.
What size rainwater harvesting tanks do I need?
The size of a rainwater holding tank must match the demand for water with it's availability as closely as possible.
BS 8515:2009 provides an authoritative and industry-approved means of calculating the optimum size of tank for household water use.
Unlike other industries it is better to reduce the size of the tank rather than over size it if in doubt as to the requirement. This is due to the benefit of allowing the tank to overflow at least twice a year to flush out floating debris. The tank chosen must therefore be a balance between rainwater supply and water demand.
In order to correctly size the tank, the capacity should be the lesser of either the rainwater supply or the water demand. A worked example demonstrating this principle is shown below:-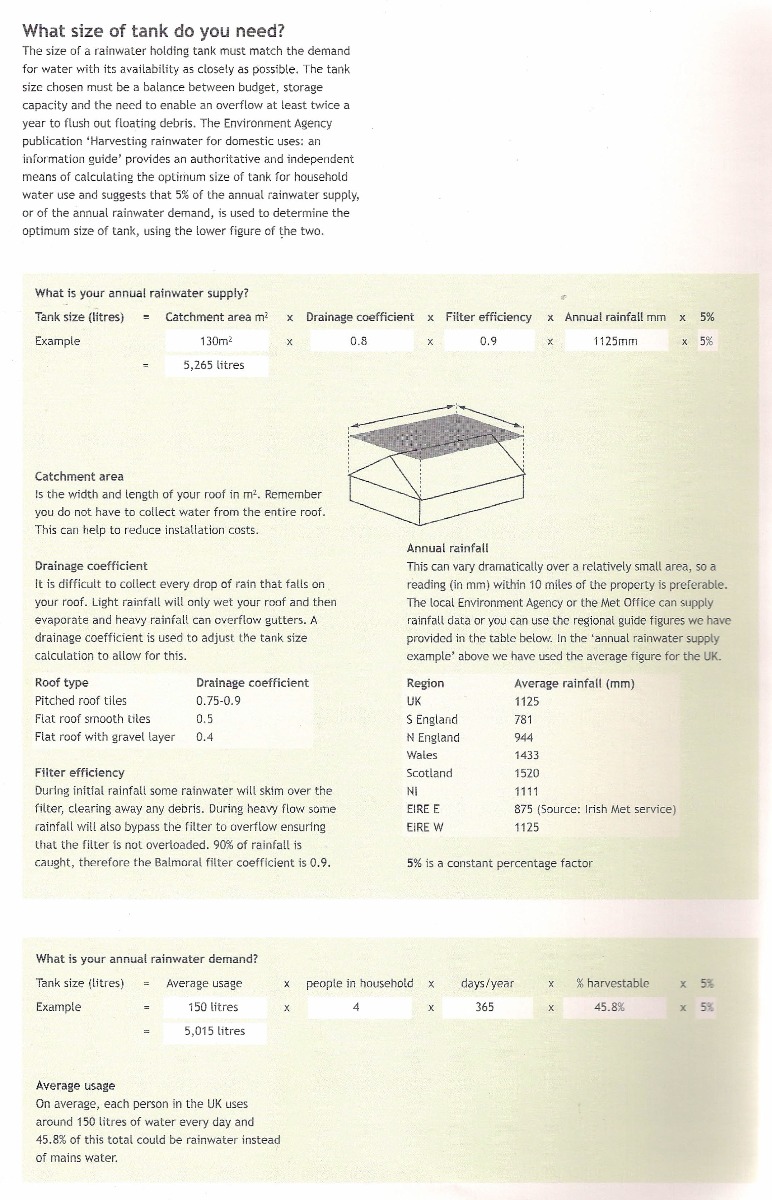 Are rainwater tanks worth it?
There are many reasons why using a water butt is a good idea. By collecting rainwater a water butt, you are using a free natural resource. This puts less pressure on an already under pressure water system and reduces the demand put on the public water system. By collecting rainwater, less water goes down the storm drains and eliviates pressur on the public drainage system and help to prevent flooding. An added bonus to using rainwater for watering your plants is that the plants love natural rainwater with no chemicals added.