Featured Products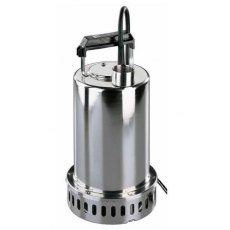 EBARA BEST FOUR M SUMP PUMP
EBARA BEST FOUR M SUMP PUMP The Ebara Best Four Manual Submersible pump can be used for various domestic applications including draining wells, garages, cellars or places that are subject to flooding. It can also be used for movement of seepage water or draining of unfoul wastewater as well as irrigation of gardens. Technical Details Equipped with mechanical seal as per standard Corrosion...
€713.05
ex VAT
(€877.05 inc VAT)
---
---
---
---
---
---
Submersible Water Pumps FAQs
What are the main types of water pump available?
Here at Tanks.ie we have a huge selection of water pumps available.
Wastewater or sewage pumps are used to move wastewater, or water that contains solids and contaminants, from one place to another. They are commonly used in various industrial, commercial, and residential applications to move wastewater from a source to a sewage treatment plant or to another location entirely.
Booster pump sets are used to increase water pressure. Booster pumps work by taking in water at a low pressure and increasing it to a higher pressure with a centrifugal impeller. Booster pump sets are ideal for areas where the water pressure is too low to provide adequate water flow.
GRP pump enclosures are made from a composite material of glass reinforced polyester (GRP). Requiring little maintenance, GRP pump enclosures are highly durable and offer excellent protection from the elements and corrosion.

Submersible pumps are designed to operate while completely submerged in a fluid.
Swimming pool and garden pumps are used to circulate water in swimming pools, hot tubs, water features, and gardens. They keep the water free of debris and maintain the desired water temperature. The pump typically pulls water from the pool or garden and pushes it through a filtration system before returning it to the pool or garden.
What is the best water pump for flooding?
Submersible pumps are very good at dealing with groundwater flooding and rainfall. Designed to operate underwater, they work by using electric motors to draw water from flooded areas and divert it away from buildings and other areas that need to remain dry. Submersible pumps are commonly used to drain water from flooded basements and other areas that are prone to flooding.
We stock a wide range of submersible pumps, that are easy to install and maintain. They can be connected to pipes and other water control systems, allowing for quick and easy water removal in the event of flooding. They are designed to operate in a wide range of temperatures and conditions and are typically constructed from corrosion-resistant materials that can withstand long periods of exposure to water. Our submersible pumps are often equipped with protective measures, such as float switches and check valves, to prevent any damage to the motor or pump should the water start to rise too quickly.
Also known as sump pumps, submersible pumps are a type of centrifugal pump that can be operated when fully submerged underwater. Sealed so the electrics are protected, our range of submersible pumps can be used for a variety of applications including puddle drainage, swimming pool pumps, pond and water feature pumps, and drainage pumps.
What type of water pump is right for me?
Choosing the right water pump for your needs is essential for effective water maintenance. We stock a wide range of water pumps, so first you need to determine the type of water pump you need.
Wastewater or sewage pumps move wastewater from one part of a system to another. We offer a range of wastewater pumps in different capacities and configurations and come with a variety of features. If you live in an area with low water pressure, our booster pump sets can increase the water pressure in your home or office. Chemical pumps are designed to move fluids containing hazardous chemicals without risking exposure or damage to the pump or surrounding equipment. Pressurised pumps are used to transfer fluids that require pressurisation. Made from a composite material of glass reinforced polyester, GRP pump enclosures are highly durable and offer excellent protection from the elements. Submersible pumps are a type of water pump that can be submerged underwater to pump out water. This type of pump is typically used in flooded areas or to pump out water from ponds, wells, or other water sources. Swimming pool and garden pumps circulate water in a swimming pool or pond. The pumps work by creating suction to draw water from the pool or pond, and then using an impeller to push the water through a filter.
On my Water Pump it mentions about head height. What is this and how do I work out what I require?
Head is the height in which the pump is lifting the waste, measured from cover level of the pump station, to the cover level of the discharge manhole. With this measurement we can ensure we supply a pump powerful enough to lift the waste up that high. We will need to know this and also the distance that it is pumping to make sure the pump quoted is suitable.
Automatic Pump - what does this mean?
An automatic pump is a pump that will automatically turn itself on and off as the liquid level rises and falls. These pumps are usually longer lasting as they do not burn out but switch off automatically if there is no liquid to pump therefore, they do not run dry.
What is a submersible pump?
A submersible pump means that the pump needs to be submerged or covered in liquid specifically the type specified on the pump such as water, wastewater, sewage etc.