Featured Products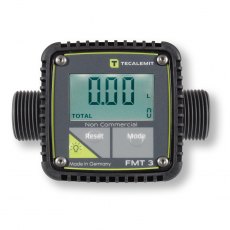 FMT 3 ELECTRONIC FLOW METER
FMT 3 ELECTRONIC FLOW METER The FMT 3 Electronic Flow Meter is precise, robust and versatile. This new generation electronic flow meter can be used with a wide range of liquids such as fuel oil / diesel, water, adblue and antifreeze. The FMT 3 Electronic Flow Meter with illuminated digital display utilises the measurement principle of a turbine wheel counter. The two-line LED display shows...
€138.10
ex VAT
(€169.86 inc VAT)
---
---
---
---
FAQs
Automatic Pump - what does this mean?
An automatic pump is a pump that will automatically turn itself on and off as the liquid level rises and falls. These pumps are usually longer lasting as they do not burn out but switch off automatically if there is no liquid to pump therefore, they do not run dry.
What is a submersible pump?
A submersible pump means that the pump needs to be submerged or covered in liquid specifically the type specified on the pump such as water, wastewater, sewage etc.